About TX INTERNATIONAL
TX is a NVOCC (Non-Vessel Operating Common Carrier) established upon the approval of Ministry of Commerce and registered and recorded in Ministry of Communications, with the scope of business as undertaking and offering the integrated all-sided services including shipping (full container and groupage), air freight, air-bridge service and personal effects etc., which is expanding and growing along with the constant opening-up of relevant nation policies.
TX headquartered in Shijiazhuang is a freight forwarder company registered upon the approval of Industrial and commercial Administration especially engaging in agencies of import and export declaration, warehousing and inland consignment as well as NVOCC and other related business. The head office of TX was founded on March 30th, 2005 by President Jamie Zhou and remains under his leadership.
For more than 10 years since the establishment, TX has successively set up seven subsidiaries in China, and two overseas offices in Japan & in Vietnam in order to meet the demand of sustaining business expansion; and currently evolved into a group service network consisting of 7 directly owned and governed offices in the world and nearly 300 agencies in 150 countries.
TX has expanded the cooperation with world celebrated ship lines including , COSCO, MSK, MSC, EMC, HMM, HANJIN, CMA-CGM,OOCL, APL, ANL, CSAV, YML, PIL, K LINE, SINOTRANS, MOSK, NYK, CHINA SHIPPING, HAPAG-LIOYD, HAMBURG-SUD,SAFMARINE and TS LINE, in order to offer extremely competitive freight rates and enough spaces to clients. The group boasts particularly outstanding advantages in Asian, European, Mediterranean, Middle Eastern, Indian and Pakistani courses.
The future strategic target of TX is to expand into an international shipping group further covering a wider global service network and providing clients with perfect online services, with a leading position in the industry maintained. Our staff continues to train and learn new avenues in the information systems and development in order to provide a most accurate, convenient, safe, and economical means of service from A to Z.
Overall, service quality for clients is the objective that TX pursues.
Company Profile
TX Headquarter was set up in Shijiazhuang city. 2005
TX Trade company was set up in Shanghai 2007
TX Tianjin office was founded 2008
TX Shanghai office was founded 2009
TX joined WCA Family (World Cargo Alliance, ID:61376) 2009


TX was registered as NVOCC 2012


TX Qingdao office was founded 2010
TX Shenzhen office was founded 2011
TX Ningbo office was founded 2012
TX Japan (Tokyo) office was founded 2013
TX Shanghai office joined CFIC 2012


TX Vietnam (Ho chi minh) office was founded 2015
TX Global Division was set up 2016
TX Trading (Shanghai) Co Ltd was set up 2016 (Business License

)
TX India (Nhava Sheva) office was founded 2016
TX Guangzhou office was founded in 2017
TX Indonesia office was founded in 2017
TX Malaysia office was founded in 2018
TX Thailand office was founded in 2019
Office Location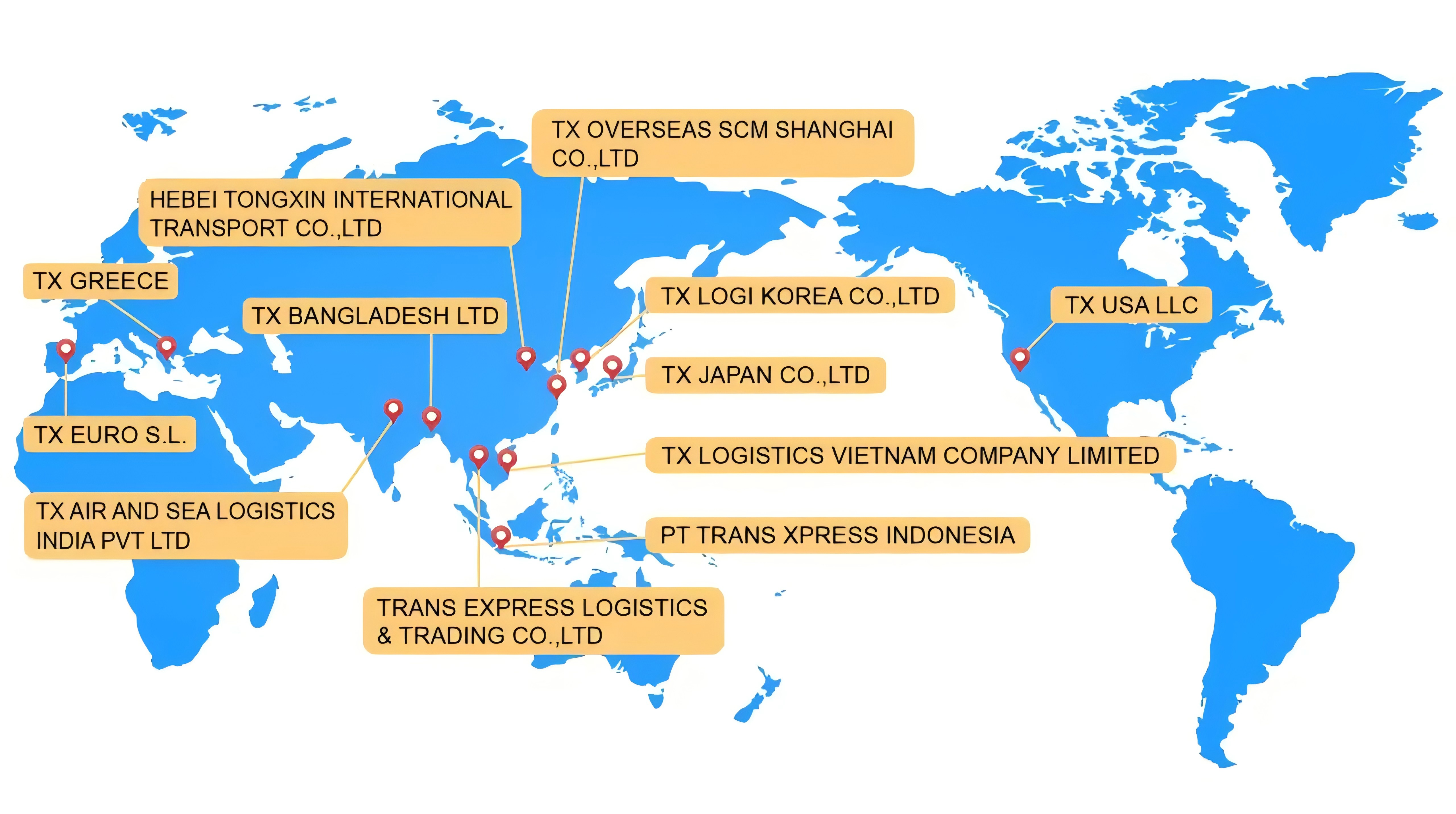 Service
Import & Export
Multiple routing directions one common carrier...
TX International provides enhanced services for both import and export shipments through our network of worldwide offices and exclusive agents.
We recruit and train the industry's best talents, providing the latest in processing and tracking technology and adapt to the latest service requirements to meet and exceed your shipping needs.
We adapt to various import and export terms (FOB, CNF, CIF, DDU, DDP, Ex Works, etc.) and provide services in line with your company's agreements.
We also provide specific services in relation to:
Brokerage, Customs clearance and formalities
Door pick-up and delivery arrangements
Insurance, risk management
Documentations, export processing, permits application and certifications
AIR & SEA
Multiple transportation modes...multiple choices.
TX International can move freight via AIR or SEA, through our network of worldwide offices and exclusive agents.
We have negotiated excellent rate agreements and service offerings with various carriers for multiple modes of transportation at both the economy and premium levels.
Incorporating the latest in processing and internet tracking technology, TX International provides a solid foundation for your shipping needs and deadlines.
Multiple transportation entails additional services in:
Just-in-time and economy based shipping
Door pick-up and delivery arrangements
Real time cargo tracking and tracing
Shipment scheduling and reports
Vendor coordination and industry resource
L.C.L.CONSOLIDATION
Vendor coordination; and consolidation services at your finger tips
TX International, through our worldwide network, have convenient regional container freight stations (CFS) located globally, providing service availability for less than container loads (LCL) and consolidation services, either by sailing, weekly, every other week or in accordance with your requirements.
We facilitate communications and monitoring of your shipments with your vendors, shippers, trading networks and buying offices and perform consolidation services according to your specific instructions. We provide booking status, loading reports and arrival notification for all shipments to ensure that LCL cargo location is known every step of the way.
Additional services for LCL requirements are:
Door pick-up and delivery
Export processing and permit applications and certifications
Warehousing and Distribution
Inventory management
Import Customs clearance and formalities
Useful Information
TX MBL Instructions for Shipments to China/Japan/Vietnam/India